Drop Robo Pro with Solenoid
01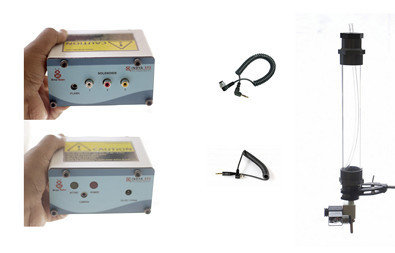 It comes with everything you need ! Only pick your stand separately if you do not have a tube holder already.

Drop Robo Pro v1.1 is designed to take water drop collision shots with ease. It comes with one water container and one electronic water drop release valve. In case you want it for multi valve stand then do mention this under order comments. You can have two different colour effects by having 2 different colours for the water container drops and a different colour for a drop receiver container. To add more colours you can always have a camera flash with colour gel.
It has user friendly android app to customise the timings of each drop as well as the camera shutter duration, this makes it state of the art professional water drop photography kit. You can set it once and it can run on its own to give you variety of shots at different time sequences smartly.
This comes with the following –
1. Main DropRobo electronic device (aluminium body)
2. Camera Shutter release cable (as per your make & model)
3. Shutter/Flash extension cable *
4. Standard PC Sync cable to connect the flash
5. Flash splitter *
6. EU/India power supply adaptor AC 100-240v to DC12v 1.5A
7. One solenoid with water reservoir assembly
8. Android app and user manual (soft copy)
9. Sample colours and gum powder (Only within India)
* This is supplied complimentary only if available with us